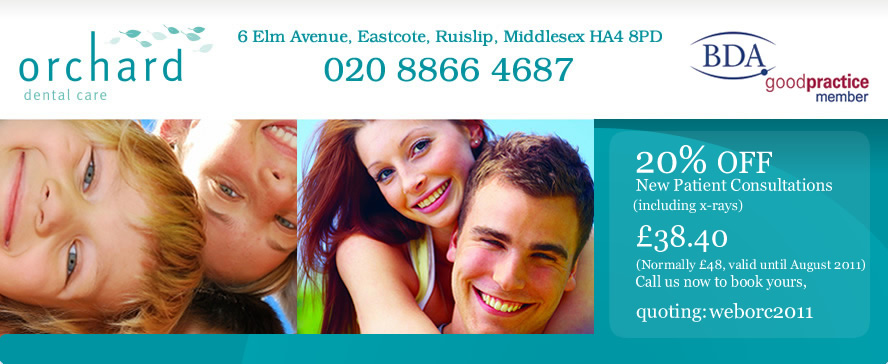 Opening hours
| | |
| --- | --- |
| Monday: | 8.30 am - 5.30 pm |
| Tuesday: | 8.30 am - 5.30 pm |
| Wednesday: | 8.30 am - 5.30 pm |
| Thursday: | 8.30 am - 5.30 pm |
| Friday: | 8.30 am - 1.30 pm |
| Saturday: | 9.00 am - 1.30 pm |
Emergencies
Please contact us on:
020 8866 4687
Treatments
Our philosophy is that your mouth should be healthy and your teeth should look attractive and feel completely natural.
Preventive dentistry
We believe this underpins the whole approach to the care that we provide. This includes oral health education, dietary advice, fissure sealants, fluoride application, smoking cessation, provision of mouthguards and advice on general health.
Cosmetic dentistry
Tooth coloured fillings: a natural looking alternative to unsightly metal fillings.
Tooth whitening: whiter teeth give you a cleaner, younger, natural smile, enhancing your self-confidence.
Porcelain crowns: create natural looking beautiful teeth, following large restorations, strengthening your tooth to last longer.
Porcelain veneers: can change the colour, shape and length of teeth, creating beautiful smiles.
Dentures: we use the latest materials and techniques so that we can help create dentures that are better fitting and more natural looking.
Implants: replacing a single tooth without affecting adjacent healthy teeth or for supporting various types of bridges or dentures.
Reconstructive dentistry
This involves more complex treatment planning utilising crowns, bridges, dentures, braces, implants or a combination of the above.
Where Lasting Smiles Begin
Range of services
Cosmetic dentistry
Teeth whitening
Invisible braces
Implants
General dentistry
Hygienist treatments